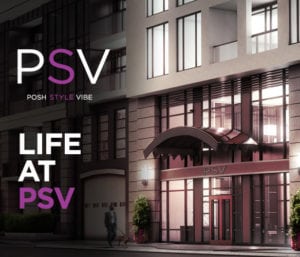 We're shining a light on our newest addition to the City Gate Suites portfolio, the PSV 1 and PSV 2 buildings.
PSV stands for Posh Style Vibe – 3 words that perfectly describe the living spaces and world-class amenities located in this building. This establishment has a modern and luxurious feel that will make anyone staying here feel pampered.
PSV is one of the newest high-rise buildings in all of Mississauga, having only been completed earlier this year. Stay here and you can experience all the lavishness of living in a brand new condominium, with none of the long-term commitment or high expense.
Located just steps away from Square One Shopping Centre, and equipped with several indoor and outdoor amenities, PSV has everything you can want and need. Enjoy the perks of 24 hour security, rooftop patio and BBQ, kids play zone, fitness centre, indoor swimming pool, and more, all within the comfort of the PSV building.
Our suites come fully prepared with all the features you are used to in your own home. Want to make a home cooked meal while your home is being renovated? No problem. Need to do your laundry after a stressful week at your new job? We've got you covered. All the amenities you want from home, but can't find at a hotel, we deliver!
If PSV sounds like the place for you, call us at toll free at 1-800-954-9188 to inquire about pricing.