Welcome to our
City Gate Suites Property Management Program
!
Why Choose Us?
Investors and Property Owners can invest their money with us risk-free, as we guarantee you rent each month. The City Gate Suites Property Management Program will take care of all your headaches by managing the property and covering the costs of all maintenance and installations, as required.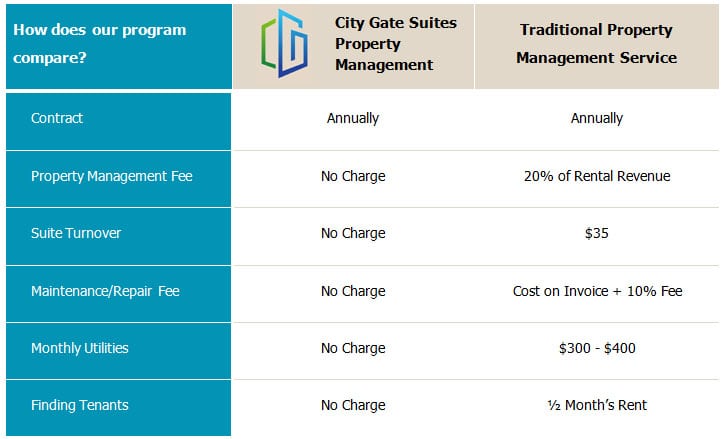 How Does City Gate Suites Earn A Profit?
At this point, you may be thinking to yourself, "this must be too good to be true," but it's not.  We transform your condominium into a fully furnished, live-in ready suite, which we rent out for a high premium. This allows us to cover the costs for the utilities, repairs, and so on, while still making a profit to run our business.
How Can You Participate In Our Program?
To participate in the City Gate Suites Property Management Program, you must purchase your condominium through the in-house real estate service that we offer. We are now selling suites in 4 condominium buildings that are currently being built (for more information, see the section below).
Select A Property

PSV & PSV2
These properties are located in the Parkside Village community, in the heart of downtown Mississauga. It is only a short drive to Mississauga City Centre, including Square One Mall, the Living Arts Centre, and Sheridan College. Read More >

Block Nine
Imagine life at the centre of it all at Block Nine. In the heart of Mississauga's thriving city centre, Block Nine offers a vibrant streetscape of shops, cafés and services just beyond your front doors, it will redefine the way you live. Read More >

Pinnacle Uptown Amber
Located at the corner of Hurontario and Eglinton Ave. West in Mississauga, Amber offers the excitement of a busy centre city and the tranquility of a suburban escape with its 15 acres of parkland. Read More >

Pinnacle Grand Park 2
Soaring 48-storeys over the bustling city, and gazing over endless views of the lake, Grand Park 2 is the perfect complement to its elegant neighbouring sister tower. The moment you step foot in the grand atrium lobby, a feeling of prestige will surround you. Read More >