The Canadian National Exhibition (CNE), also known as The Ex is an annual two-week long fair that takes place at the end of August. If you're in the GTA while the fair is taking place, you will NOT want to miss out on the opportunity to have a blast and enjoy all the CNE has to offer. If you need convincing, here are the top 6 reasons why you have to go to the CNE!
The Dog Show
How can you resist watching adorable, furry dogs running around and doing tricks in colourful costumes? If you're a dog lover then you will love this fun show, which takes place several times each day throughout the two weeks.
Carnival Food
Each year a new crazy food item makes its way to The Ex. Carnival food is known to be unique and full of greasy or sugar, but when you go to a fair you should try at least one crazy food item, like the churro cheeseburger, pulled pork cinnamon rolls, or deep fried cookie dough balls!ch
Jam out at the Bandshell
There is a new artist performing every night at the CNE's Bandshell stage, so you are bound to find someone of interest to you. The best part is that access to these concerts is FREE with your admission to the fair. Just make sure that you get there early to guarantee yourself a spot.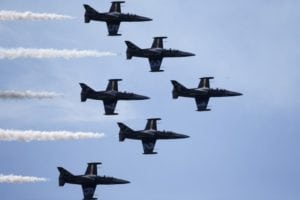 Air Show
Each year the Canadian International Air Show does a performance over Lake Ontario by the CNE, and every year it blows our mind. This show never fails to impress us, and it'll impress you too! These talented pilots do thrilling tricks in the sky to entertain viewers.
Arcade Games and Rides
It goes without saying that you should enjoy the rides and games at a fair, as these typically are the main attraction. The CNE brings in some thrilling rides that will have your stomach in knots, and games that will bring out your competitive side.
Shopping
You can shop through over a hundred vendors at the CNE, selling everything from kitchen supplies, to makeup, to clothing.