This year Canada celebrates it's 150th birthday, and we Canadians are doing it with a bang! If you haven't already noticed, over the past few weeks, more and more Canada Day preparations have been popping up around Toronto and the GTA. Banners and decorative flowerpots have lined the city, while promotions continue to be announced.
To honour this big milestone for Canada, Parks Canada has announced free access to our nation's treasures for all Canadians and visitors from across the globe. They are inviting everyone to help us celebrate our country's anniversary with us throughout the whole year.
If you're looking to celebrate Canada Day on July 1st, there are plenty of choices both near and far.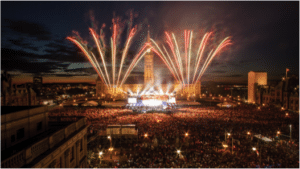 If you want our recommendation on the best place to go this Canada Day, and you're committed to celebrating in style, then take a road trip to our nation's capital, Ottawa. Take in the beauty of the historic city, while celebrating like a local on Parliament Hill. You can be sure to have a great time when you're here. There will be festivities over the course of the long weekend, with the bulk of them happening on July 1st. Celebrate Canada Day throughout the afternoon and then cap off the night with exuberant fireworks at 11pm.
We know that the drive to Ottawa is taxing, so if you're more interesting in staying in Toronto or the GTA, you can still find plenty of exciting events happening. Toronto will be host to several events for all different ages and interests. Toronto is hosting Canada Days!, which is a citywide festivity taking place across four major Toronto locations. Here you will find performances by Canadian acts including the Barenaked Ladies, Belly, and Buffy Sainte-Marie.
But if you're like us and want to stay loyal to our home city of Mississauga, then head over to Celebration Square to celebrate Canada Day this year. This hub for Mississauga locals puts on an over the top show each year, featuring local acts, children's activities throughout the day, and impressive fireworks to end off the night.