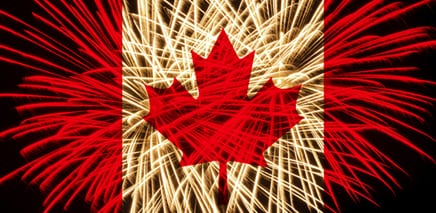 If you're in Mississauga this June 1st, then you're in luck! The city will be host to three different Canada Day celebrations in Port Credit, Streetsville, and Celebration Square. While each event is special in its own way, they all conclude the night with a colourful array of fireworks lighting up the city. Whether you're a Canadian citizen or just a friendly visitor, join us in celebrating our country's 149th birthday.
Port Credit
Location: 20 Lakeshore Road East
Fireworks: 10:10pm
Cost: FREE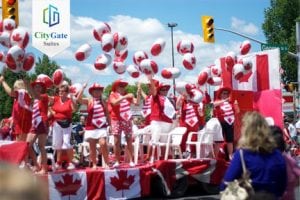 Admire the beautiful waterfront views of Lake Ontario, while enjoying Port Credit's "Paint the Town Red" Canada Day event. The event kicks off at 11am with a parade, featuring bands, giveaways and decorated floats from local groups.  A colossal 10-by-20 foot cake is served to hungry residents at the end of the event.
Enjoy live entertainment throughout the day, including acts from Pauly & the Goodfellas, doing a tribute to the Jersey Boys, or entertain the kids with face painting and cupcake decorating. Best of all, if you're a hockey fan then this is the event for you!  NHL legend and retiree Eddie Shack will be making an appearance at this year's event.
Streetsville
Location: Streetsville Memorial Park
Fireworks: 10pm
Cost: FREE
Bring the whole family to Streetsville for a night of fun for everyone, starting at 6pm.  With children's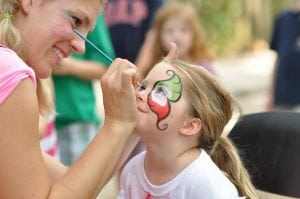 games and crafts, face painting, clowns, and carnival games, your children will have a blast.  Feast on hot dogs and hamburgers at the rotary barbeque, while enjoying live entertainment and a colourful array of fireworks.  Don't forget to dress up in your favourite Canada Day costume to be entered into the costume contest with prizes for first place.
Celebration Square
Location: 300 City Centre Drive
Fireworks: 10:30pm
Cost: FREE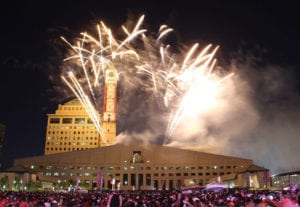 Don't miss the spectacle of the biggest Canada Day celebration in all of Mississauga.  Come out for a daylong event, starting at 2pm, with activities that people of all ages can enjoy.  Send your kids off to Camp Canuck, while you revel in the dazzling cirque shows, treat yourself to an international or local meal, or rock out to the live concerts with acts including Ria Mae and The Strumbellas.  Whatever you chose, make sure to end off the night with the entire family for an explosive fireworks display.