3 Ways to Entertain the Kids on a Rainy Day
Being stuck indoors because of gloomy weather can put a huge damper on even the happiest of moods, making it so much trickier to keep the children entertained.  Visit one of these exciting attractions to ward off the rainy day blues and kill boredom.
Playdium
Telephone: (905) 273 – 9000
Website: http://www.playdium.com/
Location: 99 Rathburn Rd W, Mississauga
Playdium is a massive 40,000 sq. ft. entertainment centre that includes virtual, physical and interactive forms of entertainment.  With an indoor baseball dome, bumper cars, and both redemption and video games, there are activities that children of all ages can enjoy.  Collect tickets from the various redemption games and redeem them for a prize of your choosing to take home to remember your visit.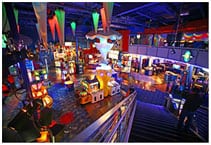 SkyZone
Telephone: (905) 306 – 9898
Website: http://www.skyzone.com/ca/mississauga
Location: 3636 Hawkestone Rd, Mississauga
Try out the world's first indoor trampoline park and experience the feeling of weightlessness while jumping and flipping on wall-to-wall trampolines.  Participate in activities like Ultimate Dodgeball, SkyRobics exercise classes, diving into a foam pit and basketball SkySlam courts for exhilarating fun for all ages and body types.  SkyZone is a great way to keep busy on a rainy day while staying active and getting a full body workout.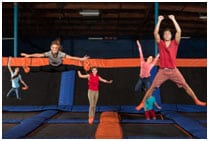 Laser Quest
Telephone: (905) 272 – 8000
Website: http://www.laserquest.com/public/locations/ON-Mississauga.cfm
Location: 1224 Dundas St E, Mississauga
Bring the kids out for an action-packed, interactive game of Laser Quest.  Get lost in this high-tech game of hide and go seek, in a multi-level maze with special effect features, including fog and lighting.  Get in touch with your competitive side by challenging your friends and family to see who can get the most points.